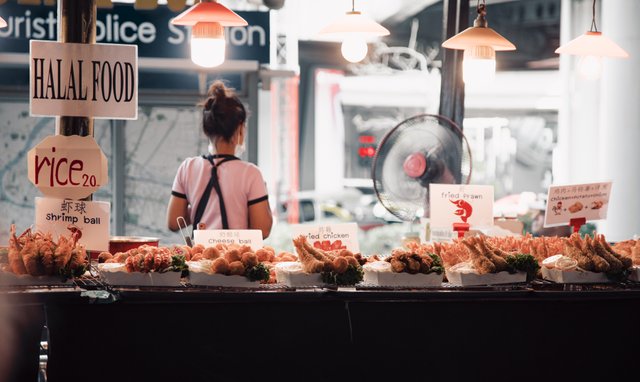 Photo taken by me @derangedvisions
So much amazing food

One of the things that Bangkok is famous for is its street food. As long as you have a few baht in your pocket, you will never go hungry in this city because there are food vendors around every corner.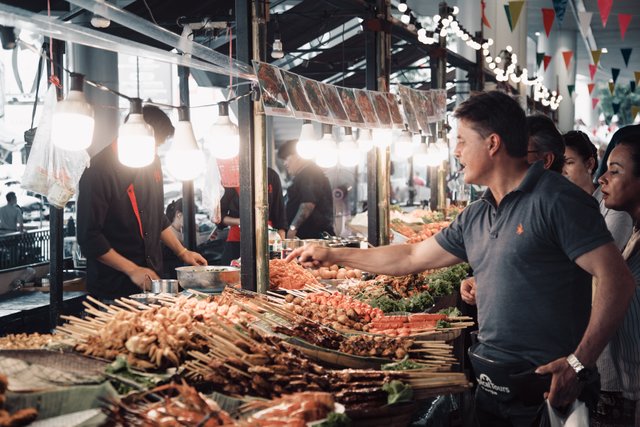 Photo taken by me @derangedvisions
@faitherz33 and I broke away from the conference for a few hours this afternoon so that I could get some new pants to wear for the temple trip that we were going to be going on in the evening. I needed to get something that covered my knees because my outfit is too sexy to wear if my knees are showing.
So we headed over to the famous MBK Shopping Mall and I bought 3 pairs of the most comfortable pants in the world. Think of some MC Hammer pants mixed with a little bit of Thai culture and that is what I bought.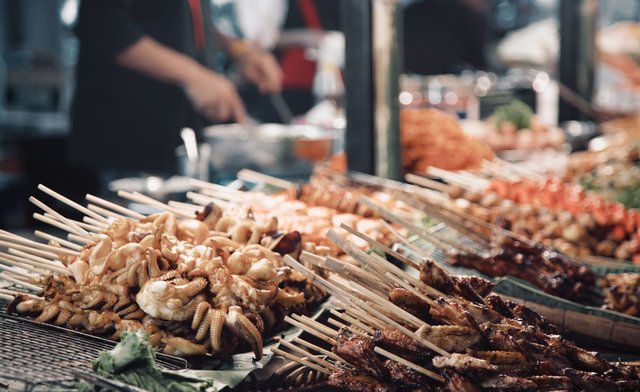 Photo taken by me @derangedvisions
Outside of MBK is a long row of street food vendors that had all sorts of delicious (and not so delicious) looking food. One thing that we finally found that we were very excited to get was the sweet rice with mango.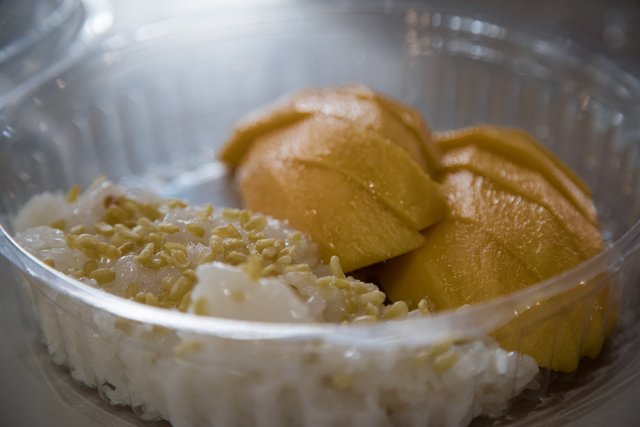 Photo taken by me @derangedvisions
The mango rice came with a little container of what I think was a sweet coconut milk and a container of little crunchy nut thingies. We poured the milk and the nut thingies on top of the rice and ate a scoop of rice along with the piece of mango, and boy oh boy was it DELICIOUS.
The mango was the best mango I have ever eaten in my life. One thing that @faitherz33 and I have been talking about while we have been eating some of the food here is that the vegetables and stuff have a very different taste than they do back in the US. We can only assume that is because the food here isn't genetically modified in a science lab. We had baby corn things with one of the meals and it actually tasted like corn, but with a more rich and nutty taste to it.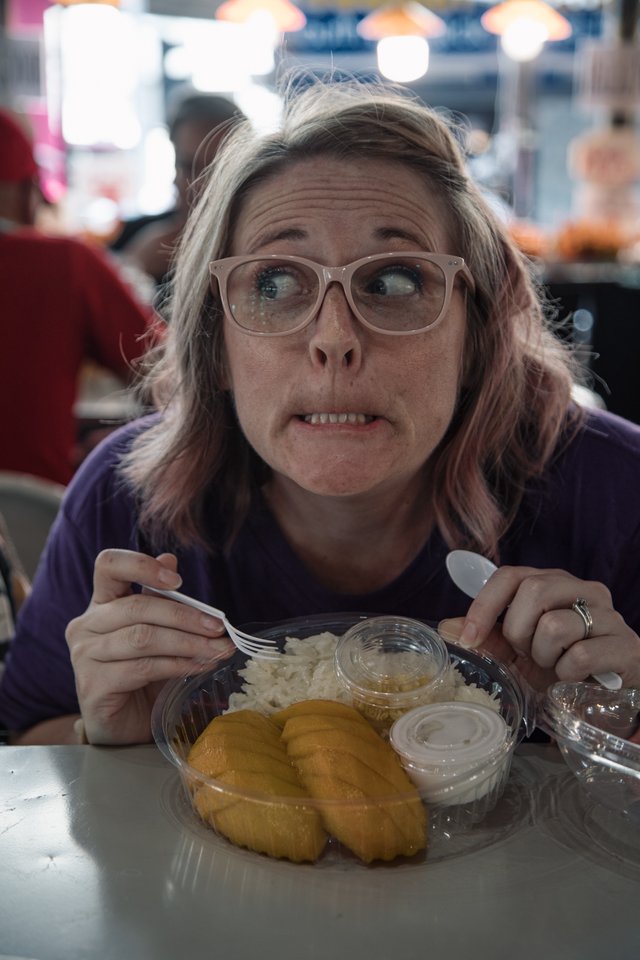 Photo taken by me @derangedvisions
As you can see Faith was very excited to try out the mango rice. We have been loving our time here at Steem Fest 4 and it has been awesome meeting so many new faces and catching up with some of the people I met last year and some that I talk to on a daily basis here on the blockchain.
We are looking forward to more adventures here in Thailand and more amazing stuff that @roelandp has planned for Steem Fest. I want to thank him for all the work he has put into making sure that this runs so smoothly and making this such a memorable experience for all of us.
Anyways, it is getting late and hopefully tonight is the night that I will get a good night's sleep here and be well rested in the morning. Thank you for stopping by and checking out my food post. You are awesome!!