There are two ways to watch the race. Either you go to places that the organizers mark as interesting, or you will find a place that you find interesting. In the first case, just follow the map that the organizer will give you. In the second case you have to have your map and be able to navigate it well. Because unmarked places are hard to reach and it wants to have a little navigation skill. And of course to maintain the safety of yourself and competitors in such places. Even in these places there are organizers how many times can be agreed with them on a reasonable compromise and will let you into the restricted zones, as long as you observe safety. In the spot on my picture, the surveillance was quite uncompromising, so I had to stay in the woods and experiment a lot with the compositions. Finally, I have some original photos from this place that I wouldn't have had if the marshals let me go where I wanted.
---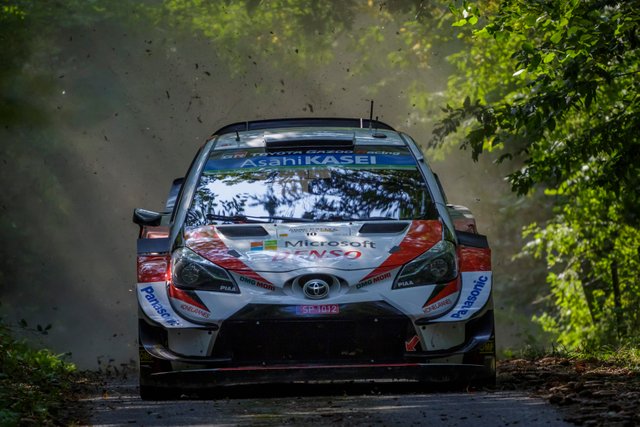 Be sure to click on the image to view full screen!
---
| | |
| --- | --- |
| Category/Kategorie | sportsphotography |
| Settings/Nastavení | ISO 800, 280mm, F5.6, 1/1000s |
| Camera/Fotoaparát | Canon 7D Mark II |
| Lens/Objektiv | Canon EF 70-200/4 + EF TC 1.4x III |
| Location/Lokace | Saarland, Germany |
---
Na rally máte dvě možnosti jak závod sledovat. Buď jdete na místa, které pořadatelé označí jako zajímavá, nebo si sami najdete místo, které se Vám zdá zajímavé. V prvním případě stačí sledovat mapu, kterou Vám pořadatel dá. V druhém případě musíte mít svojí mapu a umět se v ní dobře orientovat. Protože neoznačená místa jsou těžko dostupná a chce to mít trochu navigační skill. A samozřejmě dodržovat na takových místech bezpečnost sebe i závodníků. I na těchto místech jsou pořadatelé, kolikrát se s nimi dá domluvit na rozumném kompromisu a pustí vás i do zakázaných zón, pokud dodržíte bezpečnost. V místě na mém snímku byl dozor dosti nekompromisní, tak jsem musel zůstat v lese a hodně experimentovat s kompozicemi. Nakonec z tohoto místa mám několik originálních fotek, které bych neměl, kdyby mě traťový komisaři pustili do místa kam jsem chtěl.
---
Thank you for the upvote, comments and following.