The info below comes from the Royal Canadian Mint's COA (Certificate of Authenticity) of this coin or https://en.numista.com/ , or https://www.wikipedia.org/.
I will show you some Canadian commemorative coins, in no specific order or value.
The sixty third coin is a 2012 CAD $5 "Rick Hansen Man In Motion World Tour 25th Anniversary".
This coin weights 23.17g with 99.99% silver purity and Proof finish. Its mintage was 3,409 units and the issue price was CAD $69.95.
In 1972, a young and athletic 15 year-old boy named Rick Hansen and his friends were driving home from a day of fishing when the unthinkable happened: a car crash damaged Rick's spinal cord, resulting in paralysis.
A natural 'doer,' Rick decided to show the world that while his disability changed the game, it certainly didn't restrict him to the sidelines. With strong encouragement from coaches, friends, and family, he underwent rehabilitation, went on to be the University of British Columbia's first student with a physical disability to graduate with a degree in physical education, and ultimately became a world-class athlete – with six Paralympic medals (three gold, two silver, one bronze) and winner of 19 international wheelchair marathons between 1979 and 1984.
In 1985, Rick embarked on his biggest dream yet: using his athletic skill to inspire hope, help deepen researchers' understanding of spinal cord injuries (SCIs), and shine a spotlight on the needs of those with physical disabilities. The Man In Motion World Tour was born.
Between March 21, 1985, and May 22, 1987, Rick and wheeled the equivalent of two marathons every day across 34 countries on 4 continents. The pace of the 40,598-kilometre (24,902-mile) Tour was grueling. Rick himself averaged 30,000 arm strokes and 8 hours of wheeling a day, and spent 792 days on the road.
Rick and his team raised $26 million for SCI research; moreover, they inspired people around the world to believe in their own potential regardless of circumstance. The Tour's legacy has been far-reaching, heightening awareness and informing new policies, codes, and legislation aimed at removing barriers for people with disabilities.
The year 2012 marks the 25th anniversary of the completion of the Man In Motion World Tour. Celebrations include the Rick Hansen 25th Anniversary Relay, which retraces the Canadian route of Rick's original Tour and the Interdependence 2012 Conference for global best practices and collaboration in SCI research.
The coin design was personally selected and approved by Rick Hansen himself.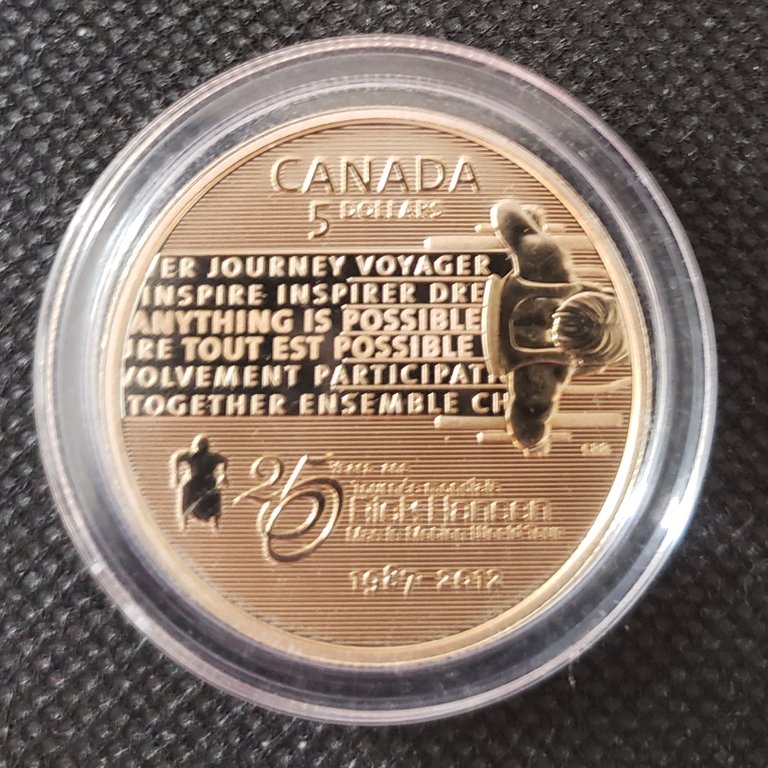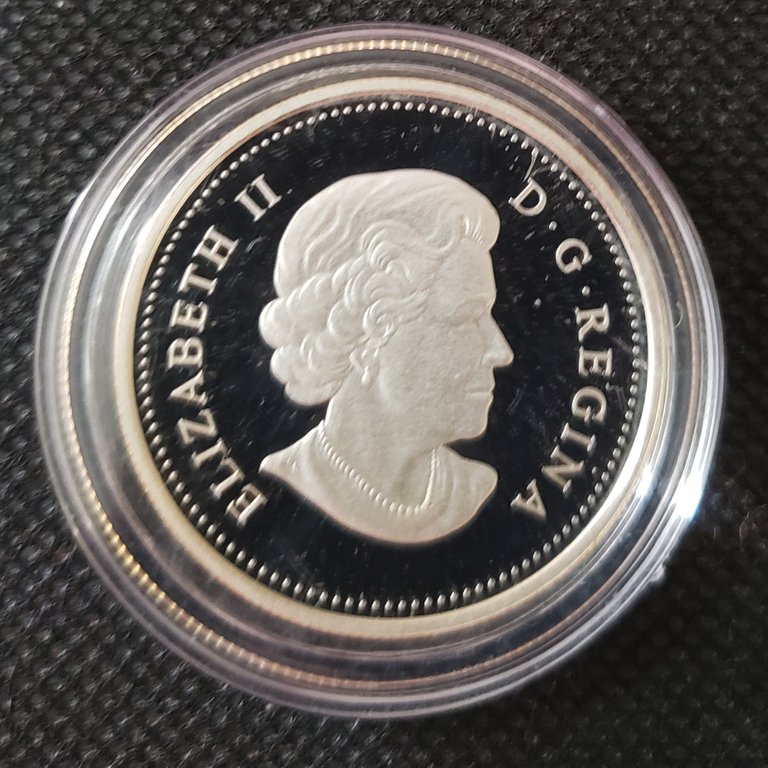 Thank you for reading. Please comment, upvote, reblog and advise me.