The info below comes from the Royal Canadian Mint's COA (Certificate of Authenticity) of this coin or https://en.numista.com/ , or https://www.wikipedia.org/.
I will show you some Canadian commemorative coins, in no specific order or value.
The fifty third coin is a 2012 CAD $10 "RMS Titanic 100th Anniversary".
This coin weights 15.87g (0.51oz) with 99.99% silver purity and Proof finish. Its mintage was 20,000 units and the issue price was CAD $64.95.
The Titanic's ill-fated life began with great fanfare in 1908, when the White Star Company announced its plans to beat all previous records in shipbuilding with a cross-Atlantic steamship unmatched in passenger capacity, luxury, and reliability. Completed in February 1912 and captained by White Star Line admiral Captain E. J. Smith, the 270-metre vessel was longer than four city blocks, more than 53 metres tall, weighed more than 45,000 tons, and comprised ten decks and numerous compartments divided into fifteen bulkheads. Its massive steel bulk was held together by more than 3 million rivets.
The Titanic's design had introduced unprecedented indulgences in sea travel for all of its guests. For first-class travelers, these included elegant public rooms as well as a salt-water swimming pool, Turkish baths, squash and racquetball courts, and a gymnasium that featured an electric horse and electric camel, rowing machines, and more—all supervised by professional instructors. First-class accommodations included suites and cabins richly decorated in painstakingly researched period styles.
The second-class passenger list included tourists, academics, clergy, and middle-class families like the Mallet family of Montreal. The Mallets and their fellow second-class travelers would have enjoyed accommodations and services that exceeded those available in first class on other vessels.
Third-class travel on the Titanic, although much less lavish than that of the first and second classes, would nevertheless have been quite comfortable. These "steerage" passengers were primarily immigrants starting new lives in Canada and the United States. Tragically, the passenger list included many large families travelling together to their new home who would never reach their destination.
At 11:40 pm on the night of Sunday, April 14, 1912, the most colossal and sumptuous steamer in the world collided with an iceberg in frigid North Atlantic waters, about 900 kilometres (600 miles) off the coast of Nova Scotia. When the Titanic broke apart and sank less than three hours later, approximately two thirds of the over 2,200 passengers and crew aboard lost their lives.
After the original rescue of survivors by RMS Carpathia, which managed to rescue approximately 700 passengers and crew, several Canadian ships traveled from Halifax to the disaster area to recover victims' bodies and personal effects; these ships included the cable ships CS Mackay-Bennett and Minia, lighthouse supply ship Montmagny, and sealing ship Algerine. Each body they recovered was taken to Halifax, the city closest to the disaster with direct rail and steamship connections, where city officials had set up a temporary morgue and asked undertakers from across eastern Canada to help bereaved families locate their lost loved ones.
Two-thirds of the deceased were identified. The remaining 150 unclaimed persons were buried in one of three cemeteries in Halifax: the non-denominational Fairview Lawn Cemetery, the Roman Catholic Mount Olivet Cemetery, and the Jewish Baron de Hirsch Cemetery.
Designed by Canadian artist Yves Bérubé, the reverse features a finely detailed image of the bow and port side of the colossal vessel as it travels westward on its tragic maiden voyage, the North Atlantic waters shimmering in its wake. The iceberg that sealed Titanic's fate lurks in the foreground. The image also features the words "R.M.S. Titanic" and a map of the Canadian Atlantic coast and the nautical coordinates at which Titanic sank.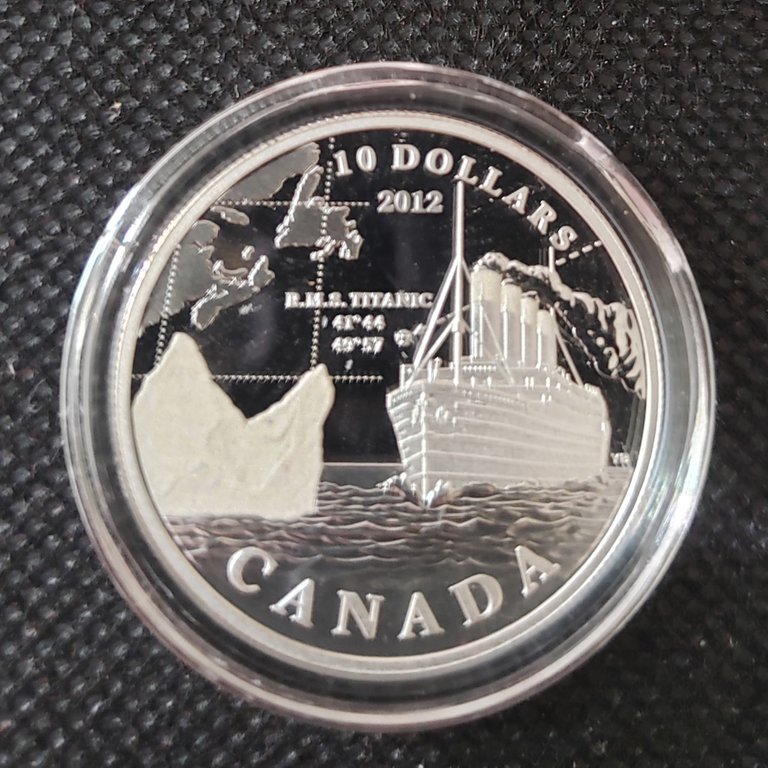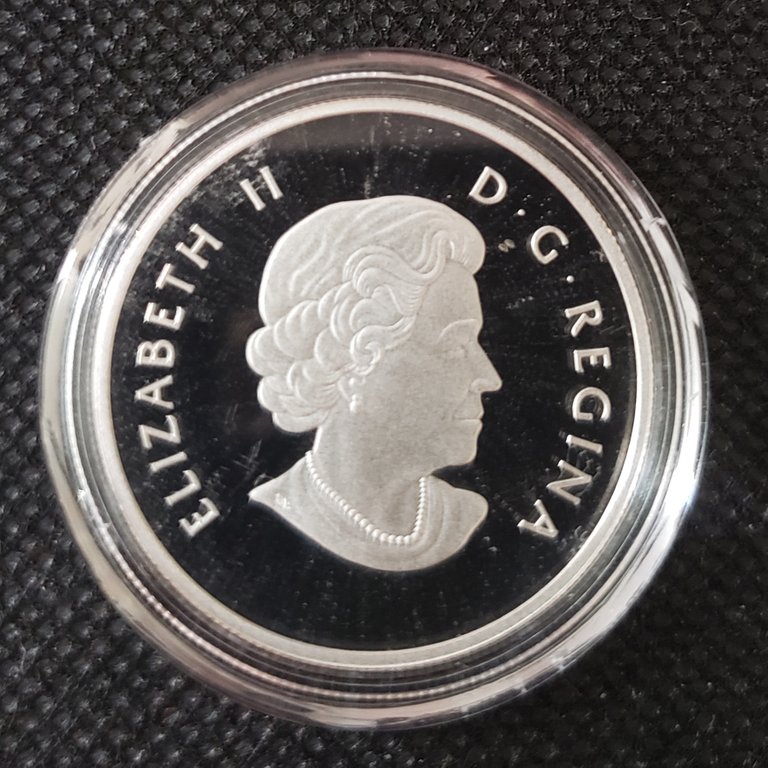 Thank you for reading. Please comment, upvote, reblog and advise me.