Howdy,
It's been awhile, again. Things have gotten busier, since I started working and it's been harder to get out for photos. As the days start to lengthen again, there will be more daylight to work with at the end of the day. This first photo can attest to that.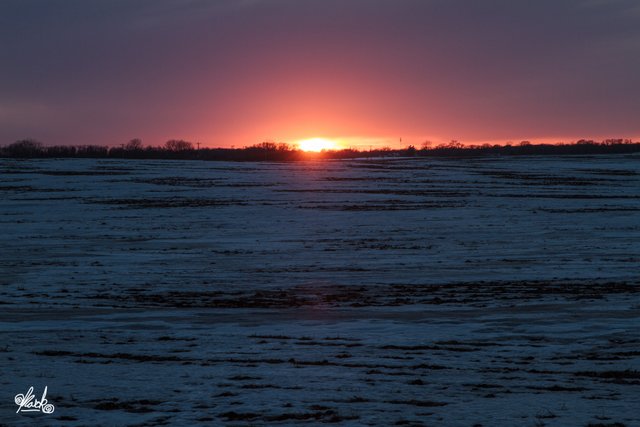 The Light at the End
Last week, I was pleasantly surprised to notice that the sun is still in teh sky when I leave work for the day. I even managed to get to the rural farm fields around Mankato to search for a photo or two! On this particular evening, the day's oppresive clouds broke just at sunset, allowing the sun to peek beneath the canopy of thick stratus clouds.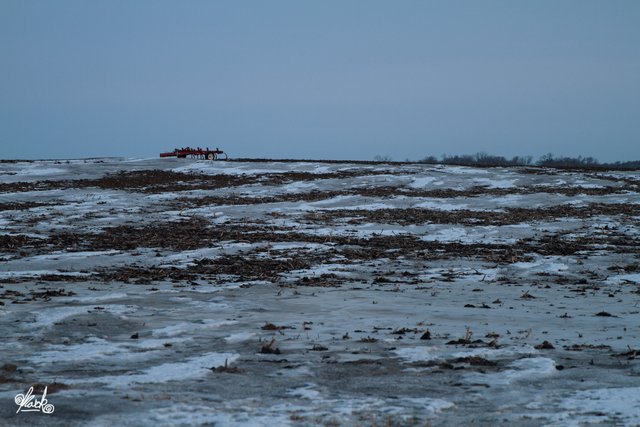 Froze-In
It was over all too quickly. Still, there was enough light left on the drive home to capture this lonely piece of farm equipment, apparently frozen into the field. The days leading up to this photo had actually been unseasonably warm, with one day reaching 40ºF (about 4.5 C) and leaving the fields messy patches of ice and slop.
Then, Sunday, we woke up to almost ten inches (25cm) of snow! The early predictions called for four inches. Those were upgraded to "six to eight inches" which, eventually, became "eight to twelve inches."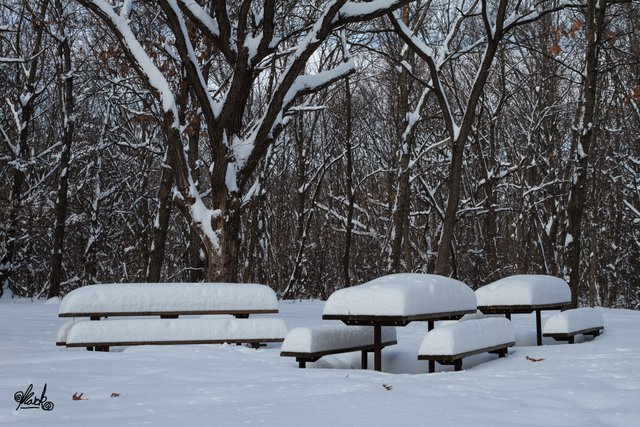 Perfect Picnic Weather
After shoveling the driveway, a task that took over an hour, I jumped in the Jeep and headed out to a well-deserved coffee and followed that up with a trip to Minneopa State Park for some snowshoeing. My road is always the last one to be plowed, but 9" (I measured!) of snow doesn't stop a Jeep.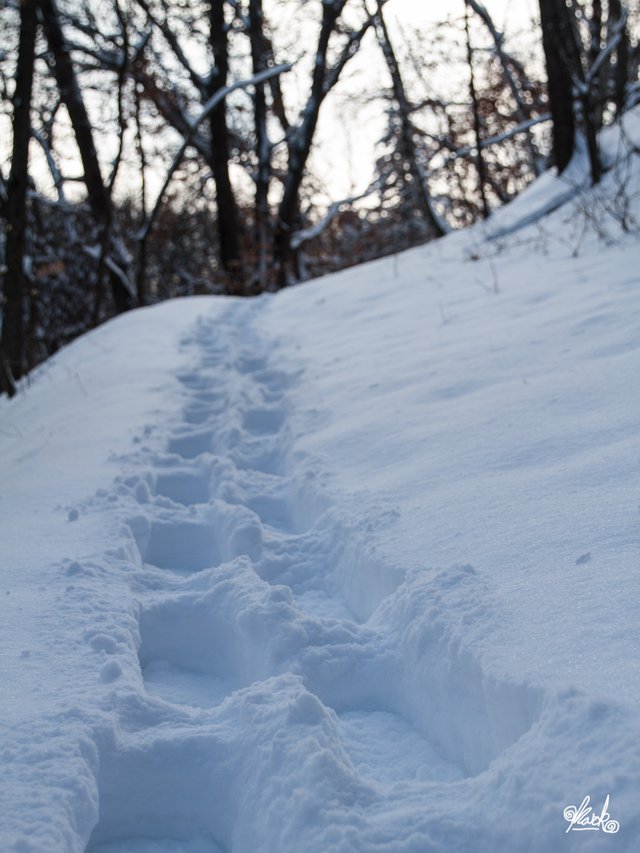 Bigfoot Sighting!
It was tough going at first, but the snowshoes made the hike to the river a lot easier than it would have otherwise been. Of course, they do kick up snow and I constantly had to remove it from my camera lens with a lens cloth. There wasn't much wildlife, but I did take a few interesting photos.
After that, I headed over to the waterfall side of the park. The stairs down were not easy to navigate, even with snowshoes.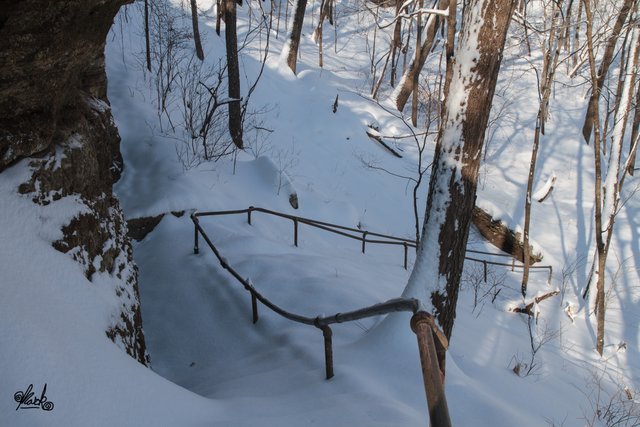 Snow on ice on stone
The waterfall is a melting pile of ice and slop, at the moment. It's not the most beautiful time to see it, but it was nice to get out and be active in the winter.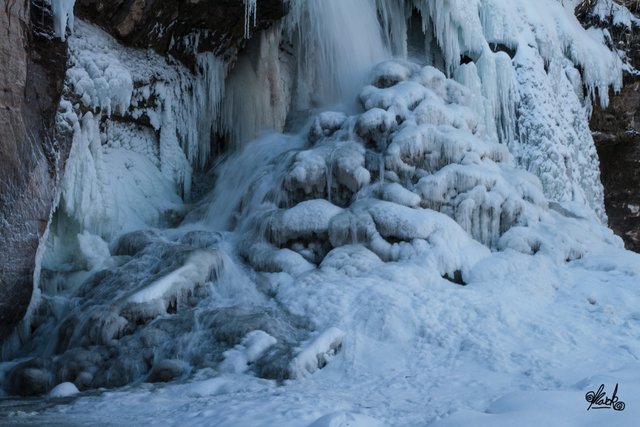 Can ugly be pretty?
On the way out, this garbage can caught my eye and I had to take its portrait. Does it not look sort of like a Star Wars storm trooper?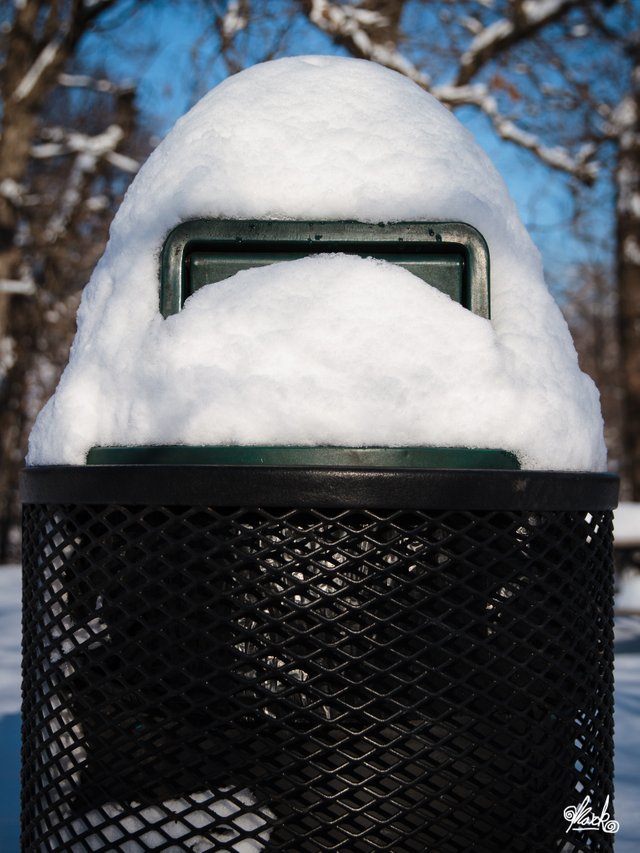 Defender of Refuse
Besides my job taking up more time, I have also gotten myself roped into doing artwork for a poetry/artist collaboration. I would prefer to submit a photo, but the poem I am working with is about vultures kettling (circling and catching updrafts) and, unfortunately, I haven't seen any vultures here in a long while. Wish me luck with the charcoal drawing!
Thank you for taking a look! If you enjoy my work, please click the upvote button. Comments are also greatly appreciated.