The name of this art photograph is:  "Family bouquet"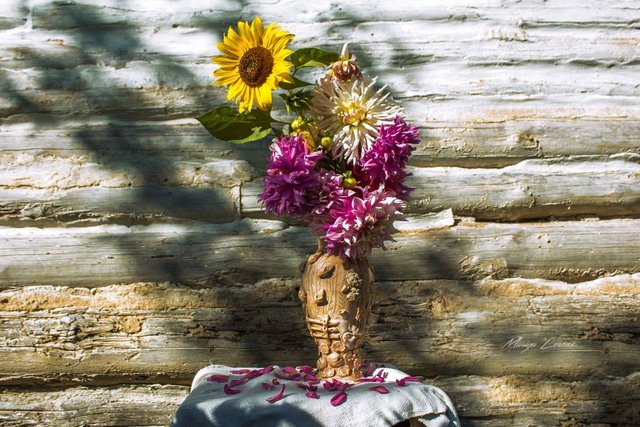 1/400;   f/5,0;   ISO 100 
 Summer bouquet of lush dahlias and a bright sunflower. Against the background of an old log house. Logs are covered with clay and chalk. It makes sense. Bouquet a strong family.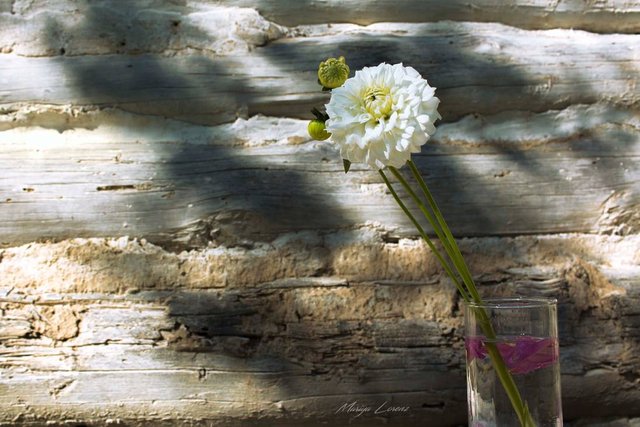 The second bouquet consists of one white dahlia in a glass cup. It's me )
This is a Ukrainian house. Here they bake their bread. In the cellar cold homemade grape wine. They love guests and will gladly treat you to fresh milk and cheese. Fragrant pies with poppy seeds. Garlic sausage and bacon. Traditions continue to live! The main thing is to love the place where you were born. And respect your parents. As long as they are alive, this is the best place on earth ! 
Enjoy watching. With tender feelings, @mariya-lorenz  
Category  macrophotography   
Settings   1/400;   f/5,0;   ISO 100
Focal length 20,0 mm
Flash without flash
Camera Canon EOS 650D
Lens   Canon EF-S18-55mm
Processing  Adobe Photoshop CS 6
All photos and text published in this message are my original work.