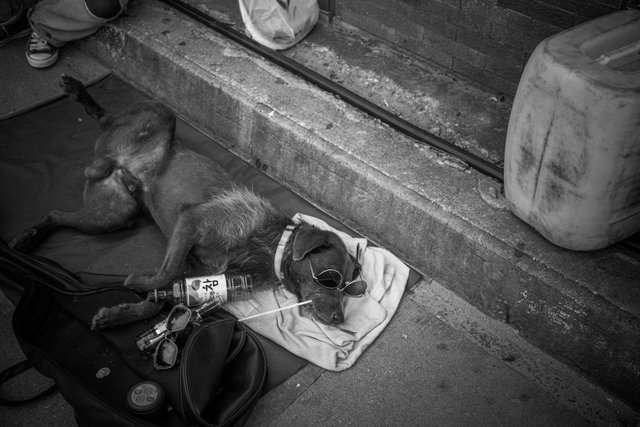 Photo taken by me @derangedvisions
It must have been a crazy night

When we were in Thailand, we didn't really see many people begging for money. We saw a few signs up in Bangkok that said that beggars would be fined like 1000 baht (around $30 USD) if they are caught asking people for money. So it was kind of odd to see this guy with his dog set up like this with a bag for money to go in.
I guess it is different if you are "performing" and getting donations or something. I thought this was a pretty funny set scene though, especially with how the dog was trained to just lay there with his crotch exposed to everyone. The dog didn't move at all for the few minutes that I watched him. So I am not sure if he was really hungover from partying with his owner or just sleeping.
This photo is my entry for the #monomad challenge. If you want to take part, just click the link and read the rules. It is a pretty cool contest and a fun way to explore photography.