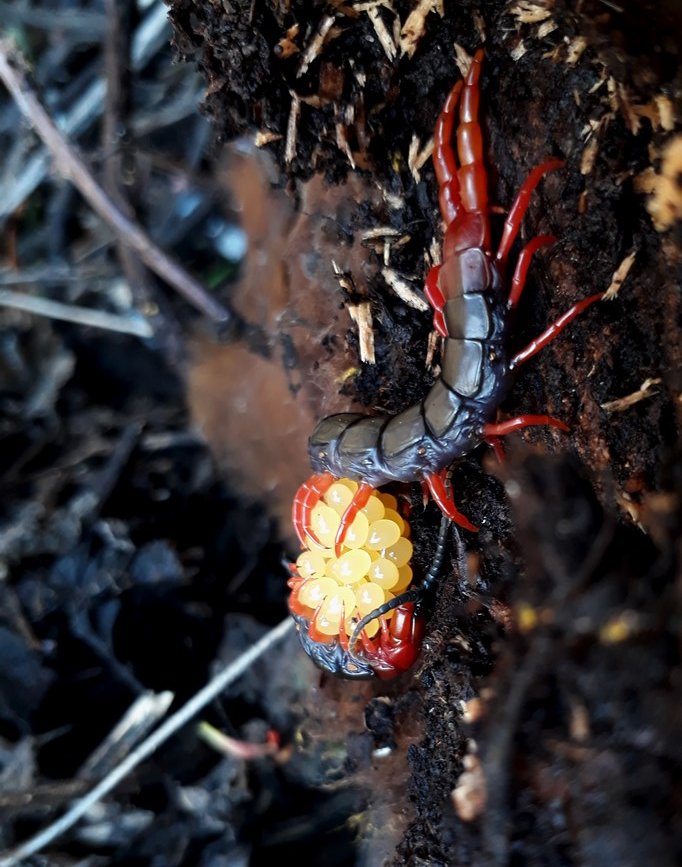 I'm cleaning up a corner of my garden where I have been dumping all the leftovers of the invasive alien plants that I am removing bit by bit. There were some well-rotted logs from the tree I cut down and as I turned one over, I was surprised to find this mother Red Legged centipede cradling her ball of eggs. I didn't know that centipedes took care of their eggs although apparently once they hatch, they need to run away from mama as fast as possible because she may just snack on them.
Cormocephalus nitidus is one of the African giant centipedes and very common at my place. Although centipedes have a painful bite and are venomous, the level of revulsion they inspire it out of proportion to the danger that they actually represent. It's extremely rare for people to actually die of a centipede bite, complications are usually caused by allergic reactions to the venom, not the venom itself.
Despite the horror stories about centipedes, they are shy and don't usually bite unless trapped. I get really mad when my tenants insist on killing all the creepy-crawlies they encounter in the yard. I have very large spiders, snakes, scorpions and giant centipedes in my garden but I see no reason to kill any of them as none of these creatures is seriously venomous although fear and ignorance will win every time. I am keen on these giant centipedes because they eat the invasive garden snails, a large nuisance at my place that I will not poison, because of the tiny native snails that are also found there. There is space for every predator in my garden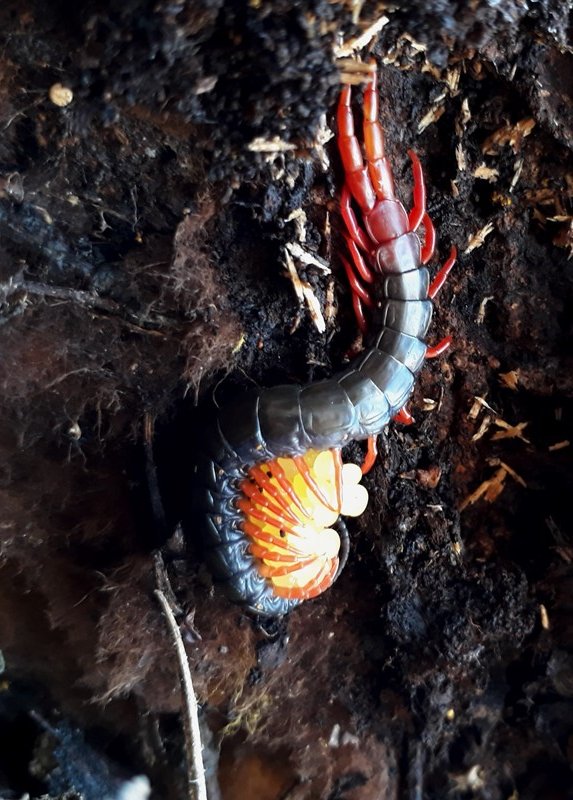 Moving away slowly, cradling her ball of eggs in her front legs and holding on to the wood with her back legs. To give an idea of size, she's at least 10cm long
Mother centipede was much more interested in cradling her ball of eggs instead of rushing round madly like these centipedes usually do so I was able to put a handful of compost onto my palm and transfer her on to it and relocate her to a quieter corner where she won't be disturbed as I continue cleaning up the mess.
while I was sitting in the shade I ended up with a creature I fear much more on my jeans although I just transferred it to the grass. I detest the smell of stink bugs. Dalsira costalis is another frequent visitor to the garden and a fairly attractive specimen. They are quite funny to watch because they wave their antennae up and down in an alternating pattern as they walk